A YouTube psychic?
Oops, I've been had again. This is weird, but of course there's some secret and logic behind it. Try it out yourself! Right now, it spreads virally in a lot of places, like on Facebook and blogs. It's closing in on 2 million views right now.
Interesting to see how it has spread in the english speaking world (especially UK, where Richard Wiseman if from) and is relatively unseen in other parts of the world, except Scandinavia, where pretty much everybody is fluent in English too. To spread even more to a broad public, it has to be very easy to understand visually, or accessible in more languages.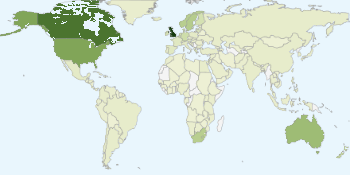 And yes, I have started reading Richard Wisemans book, Quirkology, though I haven't finished it yet. Too much to read! =)
Thanks Judith for the tip on Facebook!